Jessica Stacks Went Missing on New Years Day. Her Disappearance Leaves Lots of Questions
For many, times of joy are approaching with the Christmas season and the turning of a new year on the horizon.
However, for the loved ones of Jessica Stacks, each day inches closer and closer to a full year since her disappearance with so many questions.
And, as that date approaches, it has brought Stacks into the minds of many and made them once again wonder "What happened to Jessica?"
While all we can do is look back at what is known and hope answers will one day be provided to her loved ones, it is a way of making sure that Jessica is remembered.
The Disappearance
The beginning of this saga goes back to New Years Day, which was the last time that Jessica was seen alive.
Stacks's last known sighting was at Poolville Quick Stop while being accompanied by Jerry Wayne Baggett. This appearance was verified by video cameras on the property.
However, this is where the unknowns begin, and the trail to solving Stack's disappearance becomes unclear.
According to Baggett, this stop was followed by putting a boat into the Little Tallahatchie River off of the County Road 46 bridge. Before the pair departed, Stacks gave Willie Stinson, who assisted them in putting the boat in the river, her cell phone so he could know when they needed to be picked up from their time on the water.
After some short time on what was rough water due to recent storms, Baggett claims that Stacks asked to be let out of the boat, to which he complied.
However, this was the last sighting of Stacks by Baggett.
It would be approximately twelve hours later before Baggett would exit the river and report that Stacks was missing.
The Search
After Stacks was reported missing on the same evening, the search by law enforcement began almost immediately.
Into January 2, a much larger search team was gathered alongside rescue resources as they exhausted all options to solve the mystery and find Stacks. Heat-seeking drones, boats, and ATVs were just some of the things that the search teams hoped would help lead them to Stacks.
However, they were unsuccessful after surveying all over the area, including around the spot that Baggett showed teams in which he says Stacks was let out of the boat.
Helicopters were brought in on January 3 to assist the search, but it did not lead to better results.
Eventually, the search shifted from a rescue to a recovery situation. Yet, it did not change what was continuing to occur. Dead ends after dead ends that still leave an unresolved missing persons case.
The Aftermath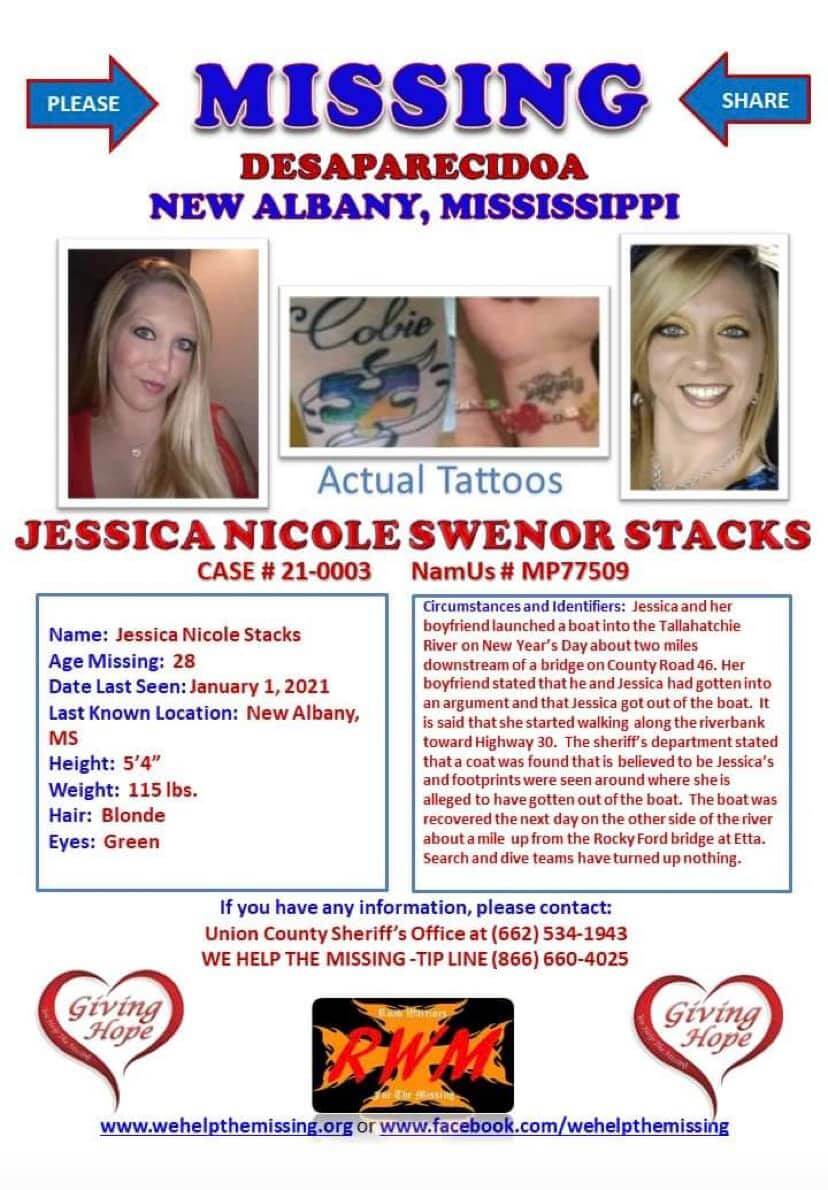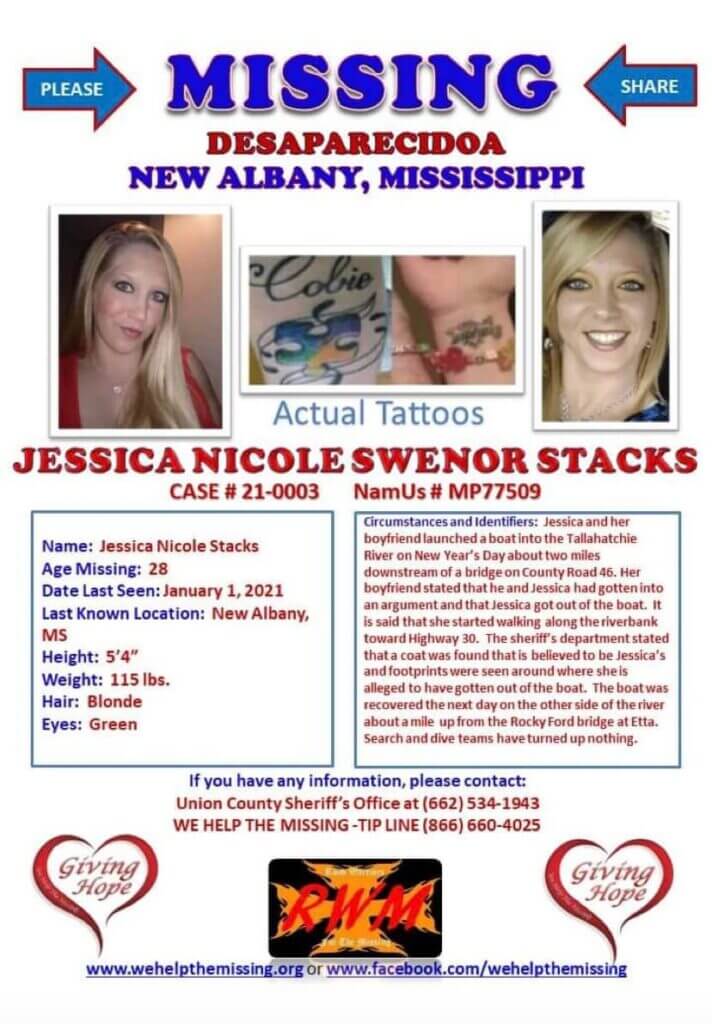 Most cases like this fall into the category of "cold cases" when no new leads come up to help the case along.
However, in this age of social media and with Stacks being known by many, this was not the case. Members of nearby communities continued to provide any information they could think of to help the case continue to move along while also keeping interest around it alive.
As of now, one can still see flyers in the windows of some Union County businesses asking for any information on Stacks to help solve her disappearance.
With this one-year anniversary of Jessica's disappearance coming near, hopes continue to stay high that this mystery can be solved to bring justice and truth to such a startling missing persons case. Most importantly, one can only hope that Stack's loved ones can finally one day receive what they desperately need and deserve: closure.