Mark Hall officially charged, jailed for attempting to run over black teens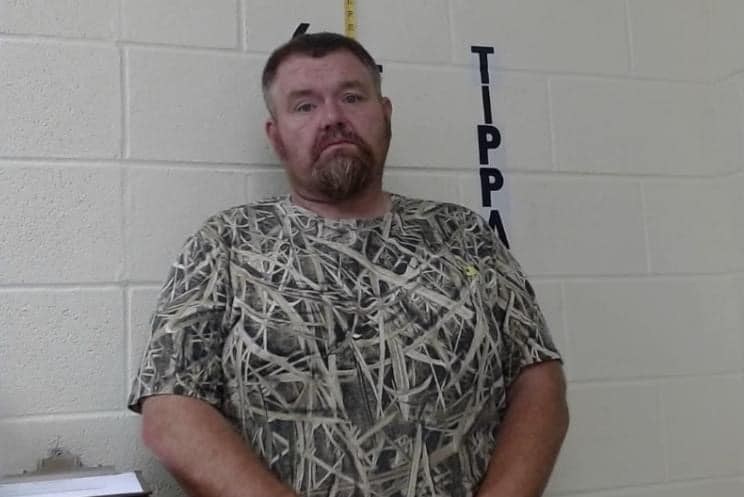 RIPLEY–Ripley Police arrested Mark Hall just before noon on Tuesday.
Hall, 49, is charged with nine counts of simple assault after a video he posted on the social media site, Snapchat was screen recorded and then posted on Facebook. The video showed Hall attempting to run over nine black teens who were riding bikes on Cooper Street in Ripley while using a racial slur.
Hall is currently being held at the Tippah County jail, according to Ripley District Attorney Bart Adams. Adams spoke to TippahNews.com about the charges.
"Part of this (investigation) is ongoing and I cannot comment on any part of the ongoing investigation. But Mr. Hall is charged with nine counts of simple assault. He's currently being held and will face arraignment within 48 hours, where a reasonable bond will be set."
According to Mississippi Code 97-3-7, (a) A person is guilty of simple assault if he or she (i) attempts to cause or purposely, knowingly or recklessly causes bodily injury to another; (ii)negligently causes bodily injury to another with a deadly weapon or other means likely to produce death or serious bodily harm; or (iii) attempts by physical menance to put another in fear of imminent serious bodily harm; and, upon convection, he or she shall be punished by a fine of not more than Five Hundred Dollars ($500.00) or by imprisonment in the county jail for not more than six (6) months, or both.
Adams believes that Ripley City Judge Sonny Meeks will preside over the arraignment hearing. At the time of this writing, it's unclear if Hall will appear before Judge Meeks or if the hearing will be held via Zoom, due to Covid-19 protocols.
Upgraded charges?
One of the simple assault charges could be upgraded to a felony. One of the teens, Jeremiah Crum, said that Hall's truck clipped the bike he was riding as it sped through the group of teens.
"We're digging into that," said Adams. "I 100 percent believe Jeremiah (Crum) when he said Mr. Hall hit his bike. But I don't know if we can prove it. If a felony charge is added that will be handled by District Attorney Ben Creekmore and his office."
"Hate crime" explained
Parents and other concerned citizens questioned law enforcement and Adams about using the hate crime statue in this case because it is believed that Hall targeted the teens because they were black, supported by the fact he is heard using a racial slur in the video. Adams clarified how the "hate crime" statue can be used.
"A lot of people think a 'hate crime" is a separate charge. But a hate crime is not a separate charge," said Adams. "It's an enhancement to the penalties of what the person is already charged with. We have to let the person know at the time they are being processed or our intention to seek that enhancement, and Mr. Hall has been notified that we are seeking that enhancement. All the parents have copies of the statutes and we've explained the process."
According to Mississippi Code 99-19-301, (1) The penalty for any felony or misdemeanor shall be subject to enhancement as provided in Sections 99-19-301 through 99-19-307 if the felony or misdemeanor was committed because of the actual or perceived race, color, ancestry, ethnicity, religion, national origin or gender of the victim.
Stay with Tippah County News as we continue to follow this story.